A Channeled Dialog of The Past, Present and Future of Humanity
Written by Michael Paul Stephens and channeled by his wife, Orranut, Equanimous is a gripping conversation between Michael and his spirit guide, Master Jacob.
From the awe-inspiring accounts of the universe's birth and humanity's secret evolution, to dramatic revelations about the lives of Buddha and Jesus Christ, the fast-paced dialog of Equanimous delivers astonishing revelations on every page.
Revealing the true origins of humanity's past, our present and the future that we are all now facing, Equanimous is the book of our times. It asks us all to leave behind the old interpretations of God, the universe and our life's purpose  and to wake up to The Reset: a future where the world will be reborn.
The challenge for each human being is simple: Do you dare to have no fear?
Learn
How did the universe begin? Did it even begin?
What re the true origins of our planet?
Who are the 144,000 and The Seven?
What really is a human being?
How did human civilization really begin?
Who were the first spiritual teachers (now recorded as part of folk lore and legend?
What was Buddha's true purpose and who was he?
Who was Jesus and did he really die on the cross?
What is the immediate future of humanity and how do current events in the world reflect this?
Download the book and see how current events, unfurling right now, were predicted in this book in 2011!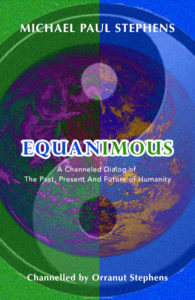 FREE PDF VERSION
£0.00Add to cart
KINDLE VERSION
£3.00Add to cart
ePub VERSION
£3.00Add to cart
JUST SOME OF EQUANIMOUS' MANY BOOK REVIEWS
"Equanimous is absolutely the most succinct and clear explanation of our spiritual purpose that I have ever read in all my years of spiritual seeking.  Thanks to you, Orranut and Master Jacob and the 144,000 for all you are doing and encouraging us to do. Keep positive and create the future we truly desire!" – Bill | USA
"I first downloaded the book on my lap top when I was in Wisconsin. I was so captivated, I continued to read until my laptop battery went dead. I then downloaded it on my desktop in Indiana when I got home to continue reading.
Thank you very much for sharing this information. Please extend a thank you to Orranut  and Master Jacob… the humor had me laughing out loud." – Michael | USA 
"Reading the uniquely insightful works of Michael and Koong Stephens is a mind-widening, soul-awakening experience"  – Gregory | Australia 
"Thank-you for such an amazing gift you brought to the world and has forever changed my being." – Sharon | USA
OTHER BOOKS BY MICHAEL PAUL STEPHENS